When it comes to choosing fabrics for apparel, curtains, home needs, and more, fabric drape is one of the most important factors to consider. Drape means how a fabric falls, if it flows, or if it resists.
Certain fabric needs require a fabric to drape well while others don't, which means you need to have some basic idea about a fabric's drape when you choose to purchase for a certain project. Whether it's making clothes, decorating for a celebration, or for home needs, knowing how a fabric drapes is key to choosing fabrics successfully.
What is Fabric Drape?
Drape is the term used to describe the way fabric hangs on the body or an object. It refers to the fluidity of a fabric under its own weight. Different fabrics drape differently due to a number of reasons, which include its weight, its weave, the fiber, as well as the finishing treatment.
A fabric that drapes well means it's flowy and hangs and moves in a fluid and smooth way, without resistance to the body's movement. When placed on the body, it clings to the contours and curves, showing the form beneath it.
When it comes to clothing, a fabric with a good drape will move with the body and highlight its curves. When it is used in the home, such as on curtains, it falls nicely downward, and if it's used in decor, a fabric with a good drape will work perfectly well when creating curves and arches.
A fabric with a good drape almost always has some certain level of elasticity.
Types of Fabric Drape
There are two types of fabric drapes, which are high-drape fabrics, and low-drape fabrics. Let's take a look at each of these different fabric drape types:
High drape fabrics are those that have a very flowy and fluid appearance when hanging on the body or object. It will fall straight down in small folds and creases, and they cling to the form beneath them.
High drape fabrics include silk, rayon, satin, chiffon, and other jersey or elastic fabrics like spandex.
Low drape fabrics are fabrics that are stiffer and more rigid. They hang down in wider creases and fewer folds, and they don't cling or conform to the shape of the body or object beneath them. These fabrics, though they may have some form of drape, tend to hold their own shape and structure.
Some examples of low drape fabrics include heavy cotton, denim, upholstery fabrics, and corduroy.
Drape Vs. Weight
Drape and weight may seem like they are dependent on each other but there's actually no relationship. This can be seen in organza, which is a very lightweight fabric but does not have good draping abilities. Some heavier fabrics, such as neoprene tend to drape well due to its elasticity.
This means that a thin, lightweight fabric may have a poor drape and a heavier fabric may have very good drape. Though, it must be noted that in general, lightweight fabrics do drape better than heavier ones.
How to Check if a Fabric Drapes Well
If you're unfamiliar with the fabrics that drape well, or if you're unsure whether a fabric will be great for your project, here is a simple way to check if a fabric drapes well.
Simply pick up the fabric, hold it, feel it, and drape the fabric over your arm. Let the fabric fall to the floor. If it hangs freely, drops to the floor on its own weight, and flows well, then it has a high drape ability. If it is stiff, awkward, holds its own shape, and doesn't fall effortlessly, then the fabric has low drape capacity.
If you're looking for quality fabrics with good drape, here are 5 fabrics on Amazon that you can purchase for your projects. Whether you're making clothes, home projects, decor, or for curtains, these fabrics are great choices for their high drape ability.
5 Fabrics from Amazon That Drape Well
1. Silk
This fabric is made of 100% silk. This fabric is made of natural fibers, specifically Mulberry silk, which is considered to be the highest quality silk in the world. The width is 44″ and one order is 1 yard or a length of 36″.
Because it's made of silk fibers, this fabric has a very high drape capacity. It comes in natural white and is sold by the TPOHH Store on Amazon, where they only use the highest quality silk fibers in all of their silk and satin fabrics.
It features include having a lustrous front side with a matte back side. The weave used is satin, and it has a soft feel and supple drape. This super fine charmeuse silk also features thermoregulatory properties, making it ideal to use on both warm and cool climates. It keeps you cool in warmer climates and keeps you warm in cold climates, making it a versatile choice.
This charmeuse silk is breathable, insulating, and drapes incredibly well, making it an ideal fabric for lingerie, sleepwear, evening wear, blankets, bed sheets, pajamas, and pillowcases.
Silk is also known to be hypoallergenic, which means those who have sensitive skin will be safe and comfortable wearing the fabric.The silk fibers are naturally resistant to molds, dust mites, and other allergens.
Pros
Silk charmeuse has a lustrous sheen that's perfect for evening wear and lingerie.
Silk charmeuse is soft, smooth, and has a buttery feel.
It is made of Mulberry silk, which is the highest quality silk in the world.
It is hypoallergenic.
Most importantly, it drapes exceedingly well.
Cons
Silk is delicate, which means cleaning it requires hand washing or dry cleaning. Silk can be a high maintenance fabric. If you throw it in a washing machine, it can shrink and fray.
---
2. Chiffon
This beautiful fabric from DJBM is made of 100% polyester. It is lightweight, sheer, and comes in one yard, which is 36″ in length and has a width of 59″.
It is made with high quality polyester fibers, features high drape properties, and ideal to use on women's clothes, curtains, draperies, and other sewing projects. It also features fair elasticity, low crease and wrinkle capacity, and is smooth and soft to the touch.
Since it's a sheer fabric, lining is needed when this is used for clothing. If used as a curtain, it also needs an additional layer of fabric. It falls beautifully and is mostly used in bridal wear, due to its beautiful drape and ethereal quality. It is also mostly used in decorations, such as in wedding arches and chair decorations.
Pros
Chiffon is one of the most versatile and beautiful fabrics with high drape ability.
It's a versatile fabric that can be used on clothes, curtains, and decoration.
It is strong despite being lightweight.
Can be machine washed on cold cycle, safe to use in a dryer, and can also be ironed on low heat settings.
Cons
It's a slippery fabric and can be difficult to manipulate.
It is sheer so it needs lining when used for clothing.
---
3. Rayon
Rayon is a semi-synthetic fabric and this rayon spandex jersey knit fabric from LAVITEX, INC. is made with 92% rayon and 8% spandex. As mentioned earlier, fabric that has elasticity drapes well and this is no exception. It's a beautiful and soft fabric that's perfect for loungewear, t-shirts, sleepwear, and other clothing.
It features a smooth to the touch with a 75% stretch across the grain. It's sold by the yard with a width of 58″ and a 36″ length. It can be machine washed but since it has 8% spandex fibers, they must be laid flat when dried. Otherwise, the fabric will stretch and get loose.
Rayon is popular for having a fluid drape, which means it hangs and moves on the body with an ideal fluidity. It moves similar to liquid, and thus, the term "fluid drape."
It is smooth and silky, features a subtle sheen, and has been likened to silk. In fact, rayon has been used as an alternative to silk because it's cheaper to produce, easier to come by, and easier to care for.
Pros
Rayon can be used as an alternative to silk.
Rayon is smooth, soft, and popular for having a fluid drape.
With 8% spandex, this rayon is ideal for loungewear and t-shirts.
Rayon can be washed in a washing machine. (Check out my guide here on how to care for rayon)
Cons
Rayon wrinkles very easily.
Since this fabric has spandex, it can be difficult to sew on an ordinary sewing machine.
---
4. Satin
This satin fabric from the Fabric Bravo Store is 60″ wide and available by roll, which is 20 yards. Customers can also order by the yard, but the store focuses more on wholesale.
This white satin fabric is highly versatile. It can be used on clothes, such as bridal wear, on costumes, and even in lingerie. It is also ideal to use on home decor, such as curtains, tablecloths, pillowcases, and more. It is mostly used for women's clothing but it's also a popular fabric for men's jackets, sportswear, and other apparel.
This satin fabric is made of 100% polyester and it drapes fairly well. It is lightweight with a shiny sheen on the right side of the fabric, and a matte surface on the other side. It is rich and luxurious, features a luminous appearance, and drapes very well.
Pros
Satin is a great material that drapes well, is versatile, and luscious in appearance.
It is a great fabric for the price.
This store offers their satin fabrics at wholesale prices, so they can be purchased at a much cheaper price per yard.
Cons
Satin frays easily, so a serger is needed to clean the seams and hems of this fabric.
---
5. Silk Crepe de Chine
This silk crepe de chine from the TPOHH Store comes from the very same Mulberry silk cocoons the company uses on their 100% silk fabrics. Made with 100% silks as well, the weave is slightly different from silk charmeuse. This silk crepe de chine has a coarser texture and is more crease and wrinkle resistant.
It has a beautiful glossy luster and is lightweight, making it a beautiful fabric to work on clothing. Silk crepe de chine is made using twisted weft yarns, which make it stronger and more durable than regular silk. It typically does not fray when cut, making it an easy fabric to work with.
Crepe de chine is French for "Crepe of China," and was popular as a kind of silk crepe from the country but it has been made all over the world since it was first traded. Not all silk crepe de chine comes from China, but it is simply the label for all kinds of crepe that's made from twisted weft yarns.
The fabric drapes incredibly well and is an ideal choice for bridal dresses, evening wear, airy blouses, shawls, scarves, and skirts.
Pros
Silk crepe de chine is wrinkle resistant, which makes it an ideal fabric for traveling.
It is very light and easy to manipulate.
It features a flexible drape that's flowy and fluid.
Because of the twisted weft yarns, it is strong and durable.
Cons
Silk crepe de chine is an expensive fabric.
---
Fabrics that drape well make for beautiful clothing and home decor. The fabrics that have high drape abilities are silk, satin, rayon, chiffon, silk crepe de chine, and other fabrics that have some elasticity.
Other fabrics do drape well but they have low drape ability, such as cotton and linen but they're more ideally used for their stiffer features, giving clothing structure and more rigidity.
Fabric drape is one of the most important factors to consider when you choose a fabric for any of your fabric needs. If you are unsure whether or not a certain fabric drapes well, simply hang it over your arm and let it hang to the floor. If it falls effortlessly and forms folds, then the fabric has a high drape capacity.
If you want to use a low drape fabric, you can cut on the bias line to give it more drape and flexibility. However, the fall and flow of the fabric will be no match for high drape fabrics such as silk. So if you're looking for fabrics that have high drape features, these featured products won't disappoint. Choose from silk, satin, rayon, silk crepe de chine, or chiffon for your next sewing project.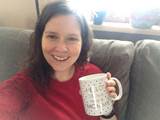 I'm a stay at home mom with our two kids. I really enjoy doing crafts with my kids however, that is typically a challenge with how limited their attention span can be and how messy it gets. So, I'm always looking for ways to make crafting an enjoyable experience and creating fond memory for all of us.