Buying a cashmere sweater is a nice luxury, but creating your own cashmere sweater takes the experience to a whole other level. This material is stunning and has a tactile nature, unlike some other animal fleeces and wool. Other options may come in and out of fashion, such as using the hair from an alpaca or another unusual herd of animals. But, there is a timeless quality to cashmere. Also, your friends and family will greatly appreciate anything with a bit of cashmere in it.
YarXlex 100% Cashmere Yarn

TEHETE 100% Cashmere Yarn

187 meters (613 feet) in one ball

250 meters (820 feet) per ball and there are 3 balls in a pack

100% natural approach with 10% cashmere and 90% cotton

800 meters (2,624 feet) of material over 5 balls
This is where you can face a bit of a dilemma when choosing the best cashmere yarn. Do you go for a little bit of the finest pure cashmere yarn to create something special, or is it more practical to go for something more of a blend? In this guide, I have selected a series of products that cover both options. Before that, let's look at some key considerations when choosing the best cashmere yarn for your needs.
---
Why Choose Cashmere for your Knitting Projects?
The feel of cashmere is unlike any other material because it is so soft and fine. There is a luxury feel to it that means you can get a little cozier under your sweaters and blankets. Also, friends and family will love getting a pair of cashmere socks or their own carefully crafted sweater from this high-end material.
---
What to Look for When Choosing the Best Cashmere Yarn
How much cashmere is in the blend?
This is something that you really need to consider when choosing the best cashmere yarn for your garments. The products that I have selected below are split between those that are 100% cashmere and those that are a blend. 100% cashmere does mean a quality choice with a pure, soft feel for cashmere sweaters and blankets. But, you can find options that are blended with wool, cotton, and other options. Yarn that is 50% cashmere and 50% wool could still have the softness and other qualities that you need. But, there are also cotton and acrylic yarn products with a little cashmere to add softness. Your choice will depend on your project and what you need the material to do.
How much you get for your money?
You might find that the pure 100% cashmere products are a little pricier because of the quality of the material. So, you may have to make a compromise somewhere based on your budget. You could end up paying more for a similar quantity or paying the same amount for a shorter length. That is why it helps to shop around and see what deals you can find.
How many color choices are there?
There are lots of brands that promote really gentle colors and tones to compliment the softness of the material, such as pale blues, pinks, and creams. However, you can still find some brighter colors and more unusual options if you shop around.
---
The Best 100% Cashmere Yarn
1) Inspiration Yarn 100% Cashmere Yarn for Knitting
There is something immediately appealing about this product and it is one that I was drawn to the most out of all the 100% cashmere options. It just goes to show that presentation can make a difference. This ball of yarn is a traditional-looking ball, unlike some other choices, with a nice card tag and some attractive colors. All the tones are soft and verging on the pastels. This is great for all those parents and grandparents looking to get something to make a blanket or toy for a baby. You get about 57 meters (187 feet) of this 25g 6-ply material.
---
2) YarXlex 100% Cashmere Luxury Soft Lightweight Crochet and Knitting Yarn
This next option is one for the parents and grandparents with a lot of ideas or a lot of kids/grandkids to make presents for. This might be the ideal choice because there are so many options when it comes to quantity. You can get a single skein of this very soft, pure cashmere yarn with 187 meters (613 feet) in one ball. However, there are also options for trios, six-packs, and even a full dozen. The latter should keep you in stock of nice white, versatile cashmere for a while.
---
3) Gongxue 100% Mongolian Pure Cashmere Hand Knitting Cone Yarn
This is where that idea of the presentation can make all the difference. The fact that this is a pure Mongolian cashmere is enough to make this an appealing choice for crafters. There is a promise of quality based on the origin. But, there is the fact that this comes on a cone, which makes it look a bit more industrial than the nice ball of yarn above. This doesn't really make a difference to how you use it. You also get a massive 1168 meters (3,832 feet) per cone. There are some great color choices and at that price you really can't go wrong!
---
4) TEHETE 100% Cashmere Yarn for Crocheting
This is another option where the company knows how to sell its yarn based on what the consumers are after. It talks about a soft luxurious fuzzy knitting 3-ply yarn, although I can't see why this would be any fuzzier and warmer than the 100% Mongolian option. The plus side here is that you get a nice length of 250 meters (820 feet) per ball and there are three balls in a pack. The downside is that there aren't so many colors to chose from. I like the dark blue in the option highlighted here as it is a nice contrast from the soft baby-focused tones before.
---
5) TrueValue Soft CashmereThread
This is pure 100% Cashmere Inner Mongolia with a nice 3ply Mongolia yarn. Mongolia cashmere is said to be the best type of cashmere. And with this yarn you get 250 meters (820 feet) per ball of the finest cashmere yarn, and three balls of yarn are included making that a total of 750 meters (2,460 feet). Again, we're talking 100% mongolia cashmere. Truevalue has many nice colors to choose from too.
---
The Best Cashmere Yarn Blends
1) Lotus Yarns Lace Weight 1 Skein Cashmere Knitting Yarn
If you want to go for a blend of materials, either for a better feel or to cut costs, this is my favorite option. I think you are more likely to get the texture and quality that you want if the percentage of cashmere isn't too low. Here the blend is 50% cashmere, 40% fine wool, and 10% angora. This is great because the angora adds some more fineness and softness while the wool adds some density. It isn't clear which wool it is, so don't expect any Merino here. This 50g is popular and while you may only get one ball in a pack, that ball does contain 365 meters (1,197 feet) of material.
---
2) LION BRAND YARN COMPANY YARN TOUCH OF CASHMERE MOONLIGHT
I am going to be completely honest about this product. When I first saw the name, I read it as a touch of cashmere, as though they were hyping up the texture of their pure cashmere product. Then I looked further and realized that it means that there is only "a touch" of cashmere in the product. However, I still want to offer this as an alternative to the 50% blend above because it could still prove to be useful in many projects. There is 10% cashmere to add a softer touch to the 90% acrylic. The theory here is that you should get a stronger material that is easier to work with for a lot less money. There are 200 meters (656 feet) here and lots of color options.
---
3) Lotus Yarns 5 Balls Autumn Wind Cotton Cashmere Blend Knitting Yarn
This final option is similar to the one above in that there isn't that much cashmere in the blend. Instead, the cashmere is there to bring softness and quality to the cotton to give a luxurious touch to a more standard product. This can be a great idea for those starting out that aren't sure about using 100% cashmere yet. Also, it is nicer to have that 100% natural approach with 10% cashmere and 90% cotton. You also get more for your money here as there are 800 meters (2,624 feet) of material over 5 balls.
---
Choosing the Best Cashmere Yarn for your Project
As you can see, there are some big differences in products based on the amount of cashmere in the blend. Personally, I am not a fan of the options that are 90% synthetic and 10% cashmere as I feel the benefits of the natural soft cashmere are canceled out. I think that other blends with natural materials and more even wool blends have a better feel and nicer result. These can also prove to be more practical and economically beneficial for larger projects. But, I can also see the appeal in the 100% pure options if you want to spoil someone – or yourself.
Take your time to go over the options within your budget and check the product description carefully to see the length and percentages in the blend. Then, all you need to do is find the perfect color and you are on your way to a brilliant cashmere creation.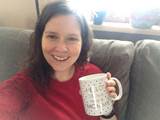 I'm a stay at home mom with our two kids. I really enjoy doing crafts with my kids however, that is typically a challenge with how limited their attention span can be and how messy it gets. So, I'm always looking for ways to make crafting an enjoyable experience and creating fond memory for all of us.