One of the most common items given out at any event, whether social, political, or charity-based, is a button. We can take them or give a small donation to a cause and wear them with pride to show our support. They are accessible and a great marketing tool if you can make enough of them in a good design. This then leads to an important question. What is the best button making machine for producing high quantities of quality buttons at home?
In this guide, you will find 11 of the best button makers for campaign badges, party favors, and more. There are similarities between products based on their design and method. Sometimes this leads to almost perfect replications, and I will discuss this more below. The guide focuses on a couple of very different top brands and then some additional models worth consideration for various reasons. By the end, you should have a better idea of what to get. You will also learn more about the best button makers, what you can do with them, and what to look out for in terms of features.
Badge A Minit 2 ¼" Button Maker

TOAUTO Button Badge Maker

Great kid-friendly option

User-friendly rotational mechanism

Creates larger button pieces

Made from high quality materials

Solid construction for longevity
The Best Button Making Machines from Badge A Minit
I want to start by talking about a series of products from one brand. Badge A Minit is one of the most interesting companies in the button-making industry because of its range and experience. The company has provided machines and supplies for over 45 years and has interesting products ranging from basic items for kids to professional machines. This comparison shows what is available at the most extreme ends of the range and what you could aspire too.
1) Badge A Minit 2 ¼" Button Maker Sampler Starter Kit
The Badge A Minit is sold as a starter kit and is a good place to start when comparing different products. There isn't the same sort of device as the products below with the heavy-duty press. But it is more kid-friendly. You get the hand press along with a set of 2 1/4″ assembly rings, a button key chain, mirror back button, bulldog clip button, magnetic back button, and an adhesive back, among others. There are also 10 designs in the box ready to go for a practice run. It may be compact and flimsy by comparison with the others, but serves its purpose.
Pros:
1) A great kid-friendly option
2) A big range of button pieces
Cons:
1) A flimsier button maker
---
2) Badge A Minit 1401 2 1/4″ Badge A Minit Button Machine Bench Press Kit
This is the next stage up in the brand's range with a more common table-top design. It is an intermediate option better suited to semi-professional applications. You get a similar button holder, but better pressure from the handle. Surprisingly, you also get a nice range of pieces in the set. there are 50 pinback buttons, 50 metal shells, and 50 of the clear plastic covers. You also get 30 designs for a test run.
Pros:
1) A more reliable system
2) Easy to use
Cons:
1) Around three times as expensive as the kid's version
---
3) Badge-A-Minit 1800 2 1/4" Automatic Button-Making Machine
Finally, for this brand, I want to mention something completely different. This machine is great for those that have big business ventures in mind where you need large-scale production and more of a hands-off experience. This pricey machine makes the same sort of badges at the touch of a button, is USA-made, and has a lifetime guarantee. It is an extreme solution that could be ideal for some applications.
Pros:
1) A much easier process where applicable
2) One of very few devices with this level of automation
Cons:
1) Parts sold separately
---
The Best Button Making Machines from Vevor
Vevor is another company that has a big part to play in the badge-making industry. You are sure to see a wide range of models online with either the Vevor name or Mophorn, which they also seem to own. The differences between the models are more subtle and focus on the methods and sizes. Some of the best examples are below, including one that I admit has a dubious origin. Still, I want to include to highlight an important point about shopping for the best button making machines online.
1) VEVOR Button Maker 44mm Button Badge Maker
This is one of the better-looking button-making machines, not that looks mean an awful lot. This is partly because of the more streamlined shape created with the slide plate. The action of the side plate isn't for everyone as it can jam. But it is also said to be more accurate. This is a good choice for smaller charity buttons, especially if you want to make a lot of them. There are 1000 pieces in the set for added value.
Pros:
1) A smaller device with a nicer footprint
2) Lots of pieces to work with for plenty of precise little badges
Cons:
1) The slide plate isn't everyone's favorite method
---
2) VEVOR Button Maker 75mm Rotate Button Maker 3inch Badge Maker Punch Press Machine
This Vevor machine does things differently by using a rotational mechanism for the round holders for great ease of use. This one is also designed more for kids' badges and party favors with the much larger 3-inch pieces. This button marker does come with 100 buttons to get you started. I do like this design and how it's made from high quality materials.
Pros:
1) The user-friendly rotational mechanism
2) Creates larger button pieces
Cons:
1) Fewer pieces in the box
---
3) VEVOR Installation-Free Button Maker Machine 32mm Badge Press Machine
This final option is why we come across some confusion in buying the best button makers. Let's start with the positives. There is a nice ergonomic design here with the all-in-one construction of the press and handle. This bright green machine also has that rotational mount that a lot of people prefer and seems to be easy to use. Another bonus here is that you get 1,000 pieces of button parts, so shouldn't run out anytime soon!
The issue that I have with this final Vevor option is that while a lot is going on that works in the user's favor, there is nothing original. The fun gifts don't seem so unique when we look at the product below. What this means is that you need to be careful comparing items. There seem to be a lot of products repackaged under different names, but with the same features. In these cases, you may be better going by price and other perks like warranty or shipping for a better deal.
Pros:
1) The user-friendly design
2) A large number of extra pieces
Cons:
1) Identical to models from other brands
---
Some Of the Other Top Button Makers Worth Consideration
Badge A Minit and Vevor may have a stronghold on the market but there are other companies selling equally beneficial and interesting machines. It is important to look around and see what is available regarding sizes, mechanisms, and extra features in the pack. For example, there is a product below with the option of interchangeable holders. This is great because novelty badge makers are rare and it would be great to be able to make hearts, stars, squares, and more. Here are some other options that may be more to your liking.
1) Happizza Installation-Free Button Maker Machine
That issue of replicated products across different brands is best represented here with this Happiza model. There is a lot to love in the specification and the extra features provided. The Magic Book is an oddity with no relation to button making, but shows this is a good tool to use with kids. You also get the circle cutter for cute 1inch badges, 500 pieces, and some designs.This specially-designed lighter non-rusting plastic machine looks appealing with its green finish.
Pros:
1) A 3rd gen model from a brand focusing on lighter kid-friendly options
2) Lot of free items like the Magic Book
Cons:
1) Come with plastic button backs
---
2) Inex Button Making Machine
This one may be my favorite of the bunch because it checks a lot of the right boxes. The machine is small and great for tabletop work, but still heavy and well-made. Also, while it may be a lot more expensive than others, there is added value. You get a metal circle cutter as a separate device for cutting out designs, 1000 pieces for making the badges, and a great mechanism with an interchangeable mold. It should see you through plenty of events and campaigns.
Pros:
1) Lots of extra features like the circle cutter
2) Large 3inch badges
Cons:
1) More expensive, but with good reason
---
3) BEAMNOVA Button Maker Machine DIY Round Pin Maker Kit
This is another product for smaller buttons, but there is the same great range of parts for a larger supply. The company is quick to highlight the longevity of this machine, with the cast-iron body and corrosion-resistant aluminum rails. There is also a nice ergonomic handle for a better repetitive action. There isn't much going on here that makes this machine stand out in any way from others. This is another case of companies following the same blueprints or using the same basic models. But, with the right deal, this could be a good first-time solution.
Pros:
1) A tougher machine for years of use
2) Lots of pieces for cute little 1inch buttons
Cons:
1) The aluminum rail could still jam without maintenance
---
4) ChiButtons 25mm Badge Press Machine-B400
There is an interesting selling point to this ChiButtons machine that I didn't see when researching other brands. The company has a wide selection of compatible molds sold separately, including some hearts and hexagons. This means there is room to upgrade and alter plans for future projects. The rotational mechanism is easy to use and there are enough pieces to get you started. Overall, I think it is a great option for anyone that wants that semi-professional approach for important projects.
Pros:
1) The scope for upgrades and adaptations
2) A user-friendly design
Cons:
1) Could benefit from more pieces in the box
---
5) TOAUTO Button Badge Maker
As you can see by now there's a lot to compare. I can see why people would prefer to try this one out as a starter model. The buttons are an unusual size at 1.5inches – so not too small but not too big either. The machine is a solid aluminum alloy with a stainless-steel mold and handle. This makes for a stable and durable button maker. You also get the grip on the handle and a decent circle cutter. There is that aluminum slide again, but this could be fine with the right rhythm.
Pros:
1) The solid construction for longevity
2) A good size cutter to get started with
Cons:
1) Only 100 pieces in the pack
---
Choosing the Best Button Maker for Your Project
There is a lot to consider when picking the best button making machines for your needs. But, as long as you have a good idea of the size of button you want and the best style of machine – with the rotational or slide mechanism – you can't go too wrong. I prefer the rotational option because it seems easier to use. Find a machine that is stable with a reliable output and all the right tools for the job. If you are working with kids for school projects then the smaller Badge A Minit tool is sure to be a hit. If you are working with a more grown-up society or charity you will need something more substantial. You then have the choice of whether or not to go for an automatic option in the future.
Why Get a Button Maker?
A badge maker may sound like a bit of a novelty item to anyone that hasn't made a one before. But they can be very useful machines for making pins and buttons for different events. Anyone involved in branding, charity work, or other forms of organization can benefit from getting a button maker. The short-term expense makes up for hiring people to make buttons for events. You can create your own design, assemble the badges, and then hand them out or sell them as needed. A personal button maker is also a great tool on stands at fairs where you can make buttons to order.
What Else Can You Make with a Button Maker?
The majority of machines come with simple round holders for your standard badge. The main differences are the diameter. But you can also find sets with other backings for magnets and keychains. There are also companies that sell alternative holders in different shapes, such as stars and hearts. From there, all you need are the appropriate materials.
How Do You Get a Good Design on Your Button?
You aren't going to sell many buttons at a fair without a good design. With the right covers and metal backings, you should be able to use any round piece of paper and make a durable button. However, basic printer paper can lead to poor saturation and resolution images. Photo paper is better for more detailed images. Play around with ideas and make sure to cut your designs to the right diameter for the machine.
Are Button Makers Difficult to Use?
These contraptions look quite complicated at first, because they have so many moving metal parts and an industrial feel. That is as long as you get a grown-up version anyway. There is a bit of a learning curve to get the right pressure and a nice finish, but you should soon find a rhythm. Ignore claims in product listing about the number of buttons produced in an hour and go at your own pace. You may also find that the brand responsible for your machine has some online guidance or a video somewhere.
Are Button Makers Safe for Kids to Use?
There are different forms of button maker around and some are easier to use than others. There is a series highlighted above that goes from a basic beginner's model for kids to something more professional. The kid's model is small, light, and requires little pressure. More grown-up versions should still be safe with supervision.
Do the Best Button Making Machines Require Much Maintenance?
This is something that new users don't always consider. These machines can be dust magnets because of the holders for the badge elements. You don't want that dust getting between the layers and ruining the design. You also don't want a build-up of dirt damaging the movements of the mechanisms. Regular cleaning and lubrication do help, especially if you have big plans for the machine over many years.
What Are Some of the Most Important Factors to Look Out for in a Top Button Maker?
1) The size of the button made. This is a great place to start because most machines are classed by the diameter of the button holder. You should find this listed pretty clearly in inches and/or millimeters. Get an idea of the size of badge you want before you start, especially if you already have designs printed.
2) It is a secure tabletop press? There are small portable devices for kids and then there are more substantial models for tabletops. A heavy metal base should keep it steady while creating a bit of an assembly line.
3) Does it have an ergonomic handle with enough pressure? The stability of the base will only get you so far if you can't apply enough force to bring all the elements together. A long handle with an ergonomic grip helps.
4) Does it have a metal slide or a rotating system? A lot of the best button making machines have two compartments for setting up and pressing buttons for a smoother process. Some prefer the simple slider mechanism while others find the rotational method more user-friendly.
5) Do you want an automatic machine instead? The answer is probably no right now because of the size, cost, and excessive nature. But I have included one option above for those that want to progress to a more professional operation at a later date.
6) How many button pieces are included with the machine? Ideally, you want to start off with a set that has starter materials. You can then top up from suppliers as needed. There are vast differences with some going as low as 50 of each button element and others as high as 1,000.
7) Are there different types of button pieces or holders? Most products come with a round holder at the necessary diameter and enough round badge pieces. But there are starter sets with pieces for magnets and key chains. You can also check brand sites for add-ons for different shaped holders.
8) Do you get any pre-made designs? Again, this is uncommon but not unheard of. Some beginner sets have cheap paper discs to help you practice – especially in products aimed at children.
9) Does it cost too much? The term "too much" will depend on your budget, but there are certain deals that are of better value than others. You can find duplicate machines repackaged at higher prices if you don't shop around. Some products have great value with lots of pieces and a high-grade machine at a fair price while others skimp on extras and cost as much.
10) Does it come with a warranty? Finally, it is a good idea to check the warranty as there are so many moving parts on these devices that could jam or go wrong. Some companies are pretty generous with 2-year deal – others less so. Get an idea of your rights as a consumer, but don't forget about those maintenance tips either.
Time to Get Your Button On
Now that we've gone over some of the machines available currently and what to look for; you can easily pick the right button machine to fit your needs. If you decide to take your marketing up a notch, check out our guide on mug press machines. They're another great way to advertise at a relatively affordable price. And who doesn't drink coffee or tea? Happy crafting!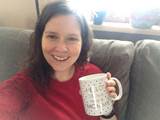 I'm a stay at home mom with our two kids. I really enjoy doing crafts with my kids however, that is typically a challenge with how limited their attention span can be and how messy it gets. So, I'm always looking for ways to make crafting an enjoyable experience and creating fond memory for all of us.