If you have a heat press machine, whether as part of your designing business or for small printing projects, you've most likely thought about purchasing a heat press stand. A robust stand or heat press table will allow you to place your machine properly, and in the long run, allow you to work more effectively. While you could be considering using a regular table, this might not be a good idea since it is not heavy-duty enough to carry a heat press machine's weight.
SEVILLE CLASSICS WORKSTATION

Thick 1.5-inch wood top, depth 24 inches and 36 inch width

Can comfortably handle 1,000 pounds

Table top is made with top-quality hardwood

Spacious for a large printer or a smaller one and other office accessories

Dimensions are 24 X 20 X 27 inches

Two of the four wheels are lockable
Even if you're looking for a second-hand table or stand, the most important thing to consider is durability. Ensure that once you place your heat press machine on top of it, it remains steady, especially when you're working. Again, go for one with the right height to avoid any inconveniences. To help you out, I've done all the heavy lifting, researched, and reviewed the eight best heat press tables in the market right now.
Here they are:
At first glance, this mobile workstation does not look like it has a lot to offer. However, after testing it, I found that it is versatile and sturdy enough for most heat press machines. It features 1.5-inch-thick wood at the top. The depth stands at 24 inches and 36-inch width. What this means is that this table is spacious enough to fit a large heat press machine.
When it comes to sturdiness and durability, this table's framework is built using industrial-grade steel, which can comfortably carry a maximum of 500 lbs. The featured rotating wheels are lockable, and they allow you to move the machine effortlessly, and once you're done, you can lock them to remain in position.
Overall, I found this table ideal for almost all types of heat press machines, except the really large ones. It also serves as an easily portable and stable workstation.
Pros
Most suitable for beginner machines
Stable
It comes with a one-year warranty
Lockable wheels
Cons
It might not be spacious enough for larger heat press machines
---
This Lap works cart is a multi-purpose equipment and is among the most versatile tables in this review. It can be used as a kitchen cart for beverages, dessert, and so on. However, I found it perfect for placing and carrying my heat press machine. Its dimensions stand at 18 X 14.5 X 23 inches, meaning it can comfortably hold a medium-sized pressing machine.
This cart is ideal for placing your machine and utilizing it effectively for heat transfer tasks. It has a compact build making it easy to place beneath a standard-sized table or desk. Also, you can add 3 or 4 additional layers, and it as well allows for attachment to several carts end on end.
It can comfortably hold and carry a maximum of 350 lbs. Overall, I found this table extremely durable, versatile, and resilient. If you're searching for a versatile cart, I'd recommend this LapWorks Utility cart.
Pros
Affordable
Heavy-duty stand
Has castors for moving across the room
You can link several carts to create a bigger and more robust workplace
Cons
Not as stable as other tables
---
This impressive stand has been dedicatedly designed to be utilized for the DC16AP, DK20, DC16, DK16, and DK20S machines. Therefore, if you don't own any of these machines, don't go for this stand.
I was impressed by the sturdy construction comprising heavy-duty steel, making it one of the durable tables in this review. Also, the height is ideal for heat transfer, and the sturdy casters made it easy for me to move it from one place to another. The only downside with this stand is that you can only use it with specific Geo Knight machines.
Pros
The framework features heavy-gauge steel
Perfect height for the process of heat transfer
Sturdy casters contribute to this stands portability
Cons
It can only be used for certain Geo Knight machines
---
Here is yet another piece from Seville – the Classing rolling drawer. While it might look like a typical drawer, it has been utilized by many, including me, as a heat press stand and has done an outstanding job.
The drawers doors are made using stainless steel. Additionally, it can hold a maximum weight of 300 lbs. Considering most 15 by 15 machines weigh around 50 to 80 lbs., this stand offers more than enough space and weight capacity for your heat press.
Its dimensions stand at 28 X 24 X 34.5 inches. It is most suitable for the average and larger sized machines. Also, if you're looking to store more stationary, it features several drawers, adding to its versatility.
Pros
The sturdy wheels made it easier to move the heat press
Can carry up to 350 pounds
Has an attractive design
Features storage drawers
Cons
Some users report it's a timely build
---
This height-adjustable stand from Seville allows you to modify its height according to your needs, making it extremely versatile. It lets you lower or raise it according to your preferences, and it as well features four screw-in dials allowing you to lock it in a specific placement.
It is designed using top-quality hardwood, and I liked that the top featured a scratch-resistant coating. It also has sturdy legs with rubberized wheels that keep the workstation stable throughout.
The most impressive thing about this table is the weight it can comfortably handle 1000 pounds! This means that you can place even the heaviest heat presses. Again, the framework features industrial-grade steel leaving this table impressively durable. Overall, this is a versatile, durable, and robust heat press table.
Pros
Steel framework making it durable
Easy to set up
Adjustable height
The top is made with top-quality hardwood
Cons
The depth might not be sufficient for some machines
---
I'll be honest, the first time I saw this stand, it impressed me. It has quite an attractive design featuring a steel framework. It also has two shelves that offer enough space for storing tools and various office supplies.
It was quite easy to assemble, taking me less than 15 minutes. The steel construction and laminate at the top offer impressive stability and support. Plus, the powder coating aids in resisting scratches and chipping for a more professional look.
The four wheels offer the effortless movement of the heat press machine from one room to the other. Two of the four wheels are lockable, which ensures its stability when not in use. Its dimensions stand at 24 X 20 X 27 inches.
Lastly, it has a maximum weight capacity of 200 pounds, making it ideal for most average-sized or slightly larger heat press machines.
Pros
Easy to assemble
Sturdy
Spacious enough for a large printer or a smaller one and other office accessories
Roomy shelves for storage of different stationery
Cons
Easily ruins when it gets wet
---
This two-tier heat press table is versatile enough to be utilized as a nightstand, printer, snack storage, and bookshelf. It will indeed come in handy in your home or office.
It was spacious enough to hold my heat-press, papers, t-shirts, and stationery. It can be easily placed beneath your desk, help organize the workspace, and leave room for other equipment. I could effortlessly manage to move my heat press from one room to the other with its swivel wheels. Again, two wheels are lockable to keep the machine steady when not in use.
The framework features steel, and the top has laminate, and these two combined offer this table durability and stability. Nevertheless, this table's weight capacity is 100 lbs. While this means that it can comfortably carry a small heat-press, it features the lowest weight capacity in this review.
On the other hand, it is effortless to set up, and I did it within 5 minutes, including setting up the wheels and locking the plastic clips.
Pros
Easy to put together
Sturdy
Versatile
Durable steel framework
Cons
Not suitable for large printers
---
This HTC expandable table is ideal for supporting heavy-duty machines weighing up to 500 lbs. The construction comprises heavy gauge steel. Again, the 14 by 25 inches top part can be split into two sections, and it spreads outwards, which comes in handy when you have heavier and bigger heat press machines.
Besides, I placed all my tools on the spacious lower shelf, which was roomy enough to hold them all. It's height stands at 31 inches, ensuring that you don't bend when working. The wheels feature rubber which makes them more stable and hinders skidding when working. Also, the powder-coated texture prevents corrosion.
Pros
Entirely expandable top
It is made using heavy-duty steel
The lower shelf holds any extra tools you might have
Supports weight of up to 500 lbs
Cons
Some Users report difficulty with assembly
Unclear instructions
---
FAQs
Can I utilize my heat press machine on a plastic stand?
If the top is constructed using long-lasting plastic, the heat released from the machine should not be an issue. However, the upper and lower platen should be raised.
What do I need to consider when purchasing a table for my heat press machine?
You require a strong and stable table that will not wobble when using it
Also, it has to be the appropriate height to maintain a natural posture
Storage space
Wheels for convenience when you want to move the machine
Budget
Final Verdict
After reading this write-up, you'll finally manage to pinpoint the product that is most suitable for you. If you're on a budget, the HTC expandable stool is the way to go. Though if you don't mind the price, the Seville models are the way to go. Well, there you have it, the eight best heat press tables! Next, check out our guide on the best multi functioning heat press machines. See how yours compares or maybe even it's time for an upgrade. Also, while we're talking about utilizing heat you may find our guide helpful on removing heat stains from wood.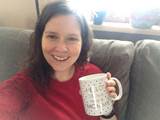 I'm a stay at home mom with our two kids. I really enjoy doing crafts with my kids however, that is typically a challenge with how limited their attention span can be and how messy it gets. So, I'm always looking for ways to make crafting an enjoyable experience and creating fond memory for all of us.