Glow in the dark paints are a great way to add a new dimension and sensory experience to your artwork. You can get acrylic and emulsion paint in various sizes and colors for use around the home and in different craft products. But how can you be sure you are getting a good deal and why do users have such mixed experiences when using these paints?
In this guide, you will learn more about some of the best glow in the dark paint for a range of applications – from more heavy-duty decorating tasks to fine art and crafts. In addition to looking at the pros and cons of each, we will see why these paints are so temperamental and look at other important considerations such as the additional features in any sets.
Artecho Glow in the Dark Paint

Zenacolour OUTDOOR ACRYLIC PAINT

Rock Painting DIY Supply Kit

Great starter set for kids

Glow can be effective under a UV light

Though with scuff-resistant layer

Simple instructions and plans to follow

Lots of additional tools and even some rocks to paint
Does Glow in The Dark Paint Work?
As you will see below, this depends on the type of paint and the way it is applied. Just because some people have success with one paint, it doesn't mean everyone will if they don't use it properly.
Which Glow in The Dark Paint Is Best?
This is a tough question because it all depends on the application. You need something that is a high-quality acrylic where you get the saturation of color and the properties needed for a significant glow. But the finer details on the tones, the consistency of the paint, and the application tools depend on the project. That is why I have included items with different purposes in this guide. You should be able to find the one best suited to your needs or use that recommendation to find something similar.
Is Fluorescent the Same as Glow in The Dark?
This is where you can get some problems finding the best glow in the dark paint. Not all glow in the dark paint glows in the same way. So, it pays to read the labels carefully before buying anything. Glow in the dark paint should glow after exposure to sunlight or another light source. It will then keep its glow for a while in the darkness. Fluorescent paint is a little different as it will shine brightly under black lights or UV light but won't have the same effect in sunlight. Also, watch out for paint classed as neon. This is where you get the colors associated with glowing lights but not the effect.
Does Glow in The Dark Wear Off?
Another big question here is how long does glow in the dark paint last? The glowing effect that you get from a glow in the dark paint isn't going to last forever. There are two things to keep in mind here. The first is that the glow fades over time after exposure to the light source. So, a painted rock or mural will look great for the first hour or so after sunset and then fade away. The other is that the glowing properties can diminish with time. It all depends on the paint used and its application. Some companies recommend adding a sealant to items or outdoor murals to keep them looking at their best. You can always try painting over areas to refresh them if they are past their best.
How To Get the Best Results with Glow in The Dark Paint
Before we look at some of the best glow in the dark paints in different categories, I want to point out something important. There are lots of negative reviews across the board where users struggle to get the tones or glow they expected. Meanwhile, others have no problem at all. A lot of this comes down to the application of the paint. It is a bit like dying hair. Colors are bolder and more true when you have a white or bleached background. So, if you prep a surface with white paint first, you might get the result you expected. It requires more work, but it is worth it!
Finding Glow in The Dark Acrylic Craft Paint
One of the best starting points for anyone with an interest in fine arts and crafts is to get a general set of acrylic paints. You can find products that can glow under a backlight or exposure to sunlight, depending on the effect you want. Just be aware that there are differences in quality between brands and you might not always get the consistency or final result expected. Still, even a cheap beginner set can give an idea of what you can achieve before going for something a bit more high-end or interesting.
Artecho Glow in the Dark Paint – Set of 6 Colors
The first paint that I want to talk about is a pretty basic acrylic for craft work. This is sold as something for fine art, but some artists find it too thin for their needs. This also means it isn't ideal for dot painting. However, you can get some great effect playing with the layers and trying different techniques. Kids will enjoy the colors and the chance to make pieces glow under a UV light.
Pros:
1) This is a great starter set for kids.
2) The colors are fun to work into paintings with general use acrylic.
3) The glow can be effective under a UV light.
Cons:
1) Some artists find it too thin and sheer.
2) Make sure to get the glow in the dark and not the neon.
Finding Glow in The Dark Paint for Walls
A small bottle of craft acrylic is great for some canvas work or dot painting, but it isn't going to be enough for something more substantial in interior design. Glow in the dark interior paint has its pros and cons because of the application issues and the need for something effective but durable. I think you would get a more intense look with stickers and tape, or a combination of these with a little intense glowing paint. But, if you want a larger patch of wall to glow, you need something like the product below.
Rustoleum Specialty 214945 1/2 Pint Glow In The Dark Luminous Latex Paint
I chose this product for glow in the dark wall paint because of the brand and the range of applications. This should be fine on interior and exterior walls, and you know you are dealing with a reputable company with Rustoleum. This is a latex paint for a little bit of elasticity and there is a luminous quality for a faint glow. You do need to be sure that the wall gets plenty of sunlight and that you prep the wall first. But this attention to detail pays off!
Pros:
1) There is a large quantity of paint in the tin for larger areas.
2) Quick drying with some elasticity in the latex coating.
3) Suitable on drywalls, wood, metal, and more.
Cons:
1) The glow will depend on access to sunlight.
2) You need to prep the wall properly first.
Finding Glow in the Dark Paint for Outside
Interior glow in the dark paint is one option for an interesting piece of design. But you can also get some products that are suitable for outdoor use too. This means creating a similar effect or design on an exterior wall, such as a decorative patio area or playground. You have to be more careful here in choosing products that are strong enough to last. You can look for something in a large can, such as from Rustoleum or a similar brand, or something mid-way between exterior paint and craft paint.
Zenacolour 20 OUTDOOR ACRYLIC PAINT
This set of paints is a great option if you want to make something a little smaller or work on a mural. You won't get enough here for a large section of wall with 2oz per bottle. But you do get 20 fun colors to play with. The difference between these paints and the craft paints above is that there are more durable for outdoor work. They should work well on playgrounds and outdoor equipment and can produce a reasonable glow.
Pros:
1) The range of colors is perfect for making fun murals with the kids.
2) The paint is safe to use but also tough with its scuff-resistant layer.
3) You also get three brushes in the pack to make things easier.
Cons:
1) Some feel the glow could be more intense after exposure to sunlight.
2) The small size bottles aren't ideal for larger areas.
Finding Glow in The Dark Paint for Plastic
Another option for outdoor projects and living spaces is to find something suitable for plastic. This way you can give old garden furniture or toys a new lease of life. A good plastic paint is also great for storage boxes inside the home. There are different options here in terms of the style of paint, but you have to be careful that they will bond with plastic. I prefer spray paint here for a more even effect on the plastic and a more professional look. Just make sure to use it in a well-ventilated area.
GLO-X Glow In The Dark Spray Paint
I will be honest here, it isn't easy to find a good glow in the dark spray paint. However, sprays are one of the better options for working with plastic. So, I cautiously recommend this Glo-X 10.6oz product. The main reason I choose it was the color. The aqua looks great when you can get a good coating on the right background. This is where prepping the surface helps. When used properly, you can end up with some great effects, especially when masking off areas for bolder lines.
Pros:
1) The aqua tone is a great alternative to the usual neon greens and yellows.
2) It should provide a quality strong finish on plastic and metal.
3) The glow is strong enough with the right preparation.
Cons:
1) There are mixed results with this product where users don't get the depth of color expected.
2) This can lead to wasted cans and wasted money.
Finding Glow in The Dark Paint for Rocks
Finally, I want to mention something a little different that is fun for the whole family. Rock painting is a brilliant way to get kids interested in crafts as you can make fun decorations with few requirements and no previous experience. Adding glow in the dark paint to those rocks can add that extra layer of interest if they can glow in a flowerpot or on a windowsill at night. You could use craft paint like the first product in this guide, but I like some of the available sets. They give kids more options and guidance for a fun family activity.
Rock Painting Creativity Arts Crafts DIY Supplies Kit with 18 Paints
This is one of many great rock painting kits out there. The reason I chose this one, however, was the range of features offered. You start with the paint, which comes in various forms, and then get some bonus stickers and gems to enhance the design. There are 6 standard paints, 6 metallic paints, and 5 glow in the dark paints. I was also surprised to see the rocks and brushes included in the set. It should be easy enough to follow along with the guide once you figure out which paints actually glow.
Pros:
1) You get a series of types of paint to play with.
2) There are simple instructions and plans to follow for fun activity time.
3) You get lots of additional tools and even some rocks to paint.
Cons:
1) There are some complaints about the quality of the paint and stickers, although this is a cheap kit.
2) It needs better labeling on the paint.
Glow In the Dark Paint Takes Effort but Is Worth Trying?
The main thing to take away from this guide is that while painting with glow in the dark paint isn't always easy, it is worth persevering with. With the right preparation, careful application, and the right product, you can end up with a surface that reacts with light. The result may not be intense or permanent, but it can still look great. Seek out the best products for your specific project to make sure they are suitable, come up with a fun design, take all the necessary steps, and enjoy it.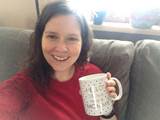 I'm a stay at home mom with our two kids. I really enjoy doing crafts with my kids however, that is typically a challenge with how limited their attention span can be and how messy it gets. So, I'm always looking for ways to make crafting an enjoyable experience and creating fond memory for all of us.